SwellWomen Costa Rica Surf & Yoga Retreat A24
With Lulu Agan ~ Chief Officer of Bliss
April 28 - May 4, 2024
Your Bliss Awaits in Costa Rica
Fall asleep to the lull of distant waves. Awake to the sunrise and the call of howler monkeys.  As you make your way to the main dining area for breakfast, you're sure to be greeted by wild monkeys, toucans, macaws, sloths, and other creatures of the rainforest.
Our bungalows at Osa Clandestina are nestled in the Rainforest Reserve just a 5-minute walk from the beach and Pan Dulce Surf Break.  We offer comfortable open-air bungalows with a casual elegance surrounded by lush gardens and a hundred acres of our private rainforest reserve.   All bungalows have air-conditioning, a private bathroom, and a private terrace with garden & jungle views.
Easily explore uncrowded beaches and winding forest trails, or simply relax in your cabin and wait for the monkeys and macaws to parade through the network of mango and other native fruit trees that front the property.
Imagine your surf lessons taking place at our surf spot suitable for all levels including absolute beginners followed by delicious yoga that nurtures the mind and body to open and restore the muscles and energy. Our yoga practices are designed to illuminate acceptance and gratitude for the moment and offer invitations to absorb mind-body nourishment through grounding, opening, and restorative flows.
Additionally, many other activities and guided tours can be arranged such as kayaking, horseback riding, sportfishing, hiking, rappelling, and even gold panning. Of course, doing "nothing" on a vacation is a luxury in and of itself; a breezy lounge with games, books, and music affords an opportunity to do just that. Whether adventuring or decompressing, we provide a great variety of local, artisanal, and organic fare to nourish your body and soul and prepare you for your next discovery.
Your Surf & Yoga Adventure is the perfect setting to relax, engage, explore, surf, sunbathe, and stargaze.  Doesn't that sound blissful?
Your Surf & Yoga Retreat in Costa Rica Includes:
6-Night accommodations at the breathtaking Osa Clandestina Sustainable Eco Rainforest Lodge.
Daily Farm-to-Table meals & non-alcoholic beverages.
5 x Surf lessons with professional, patient, and knowledgeable surf instructors.
Daily yoga classes that focus on opening and restoring not just the body, but also the mind after a day of surfing.
Experience harmony and well-being with a 60-minute massage.
Each participant will receive a Swag Bag including a Carve Designs Rashguard.
Transfers to and from Puerto Jimenez airport (see travel policy & exceptions)
A Very Swell Sample Day
How do we fit so much into one day? By taking care of all the details so that you can truly enjoy your surf & yoga vacation.
6:00am Light Pre-Surf Breakfast
7:00am Depart for our Surf Session (time will change each day as it's based around the tides)
Brunch or Lunch upon return from our surf session
1:00-4:00pm Lunch whenever you are ready, activities vary in the afternoon and include; free time, afternoon excursions, lounging at the pool, massage, naps, etc.
4:00pm Restorative Yoga
6:30pm Group Dinner
The schedule may change according to surf conditions, destination, or other events that may be added to your surf and wellness package. Do you need to participate in everything? We are here to provide many options for you to choose from. If you opt to relax at the beach the entire day or choose to participate in only one activity per day, you will be supported in that decision. It's your surf & yoga vacation, and we are here to accommodate you in whatever choice brings you the highest bliss.
PLEASE NOTE:  LODGE ONLY HAS 3 BUNGALOWS ACCOMMODATING 3-6 GUESTS
Leader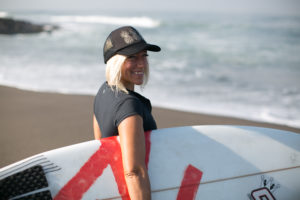 Lulu Agan ~ Chief Officer of Bliss
"Courage doesn't mean you don't get afraid.  Courage means you don't let fear stop you." – Bethany Hamilton Surfing, yoga, cooking and wellness: these 4 passions are what lead Lulu Agan, globe-trotting surfer and yogini, to SwellWomen which launched in 2003. Having spent more than a decade as a Private Chef and more recently getting certified as a Health & Wellness Coach with the Institute of Integrative Nutrition, Lulu cultivates a great knowledge and enthusiasm for top-quality cuisine that promotes glowing health, from the inside out.  As a supportive mentor and wellness authority, she works with clients to help them…
Learn more about Lulu Agan ~ Chief Officer of Bliss