Rote Island Surf & Yoga Retreat
With Laurel Marshall ~ Trip Leader and Lulu Agan ~ Chief Officer of Bliss
September 17 - 23, 2023
Remote Island Paradise
Are you ready to step back in time? To be transported to the untouched? To the Indonesia that once was? This is Rote Island. It lies at the southernmost end of the Indonesian archipelago, and most who go report an uncanny sense of peacefulness and a slowing down of time. The Lonely Planet guide describes it as, "A slender limestone jewel, with powdery white sand beaches and epic surf" and the description is spot on. Most report Rote as "the way Bali used to be, decades ago".
Nemberala Beach Resort is modern property amidst the turned back hands of time. Beautifully crafted with local quarried stone, exposed regional hardwoods, and traditional Rotenese alang roofs. The resort sits on the edge of the stunningly blue ocean, with a sunset to rival any in the world.
Travel, adventure, wellness, mindfulness have the ability to power personal transformation. Combine this with NeuroLeadership, a Blue Mind – being in, on and around the water and you've got a unique combination to further health, happiness, and elevate your personal best. You will be invited to embark upon your own personal journey, inspired to learn and stretch your thinking through an intentional personal coaching journey crafted specially for SwellRetreats.  You will be guided individually through three sessions (pre and post retreat), to allow you to start the process of dreaming big, setting intentions, cultivating growth, and achieving your vision of your "best self".
Book your bliss today & be transported back in time to the ultimate SwellRetreats experience!
Your Retreat in Rote Island Includes:
Six nights in the beautifully crafted villas of Nemberala Beach Resort, with incredible ocean views from every room.
Four-plus meals per day (yes really, at least four!) from the infamous Nemberala Beach Resort Kitchen. The Resort boasts a daily menu featuring early breakfast, late breakfast, lunch, appetizers, dinner, and dessert.
Coffee, tea, and water. Adult beverages are not included.
5 x 2-hour surf lessons with professional, patient, and knowledgeable surf instructors. Options to take your lessons at multiple breaks ranging from complete beginner, to intermediate to highly advanced.
Unlimited transportation to the more advanced surf breaks in front of the resort by boat, at any time of the day, as many times as you would like.
Daily yoga classes that focus on opening and strengthening the muscle groups used for surfing & restoring the body after a day of surfing.
Leadership Coaching Program that includes both 1:1 and group coaching.
2 x 60-minute massages designed to rejuvenate your surfing muscles and bring relaxation to the body. These can be enjoyed at any time during the retreat. You may also book extra spa treatments at any time at the beautiful onsite spa.
3 x day trips to be decided upon by the guests. Options include boat trips to uninhabited beautiful islands, snorkeling, tours around Rote to 1000 steps, farmers markets or palm sap forests, or stand-up paddling in the mangroves.
Swag Bag including a rash guard.
A Very Swell Sample Day
How do we fit so much into one day? By taking care of all the details so that you can truly enjoy your luxury holiday. The surfing time's depend upon tides and swell size, but here is an example of a SwellRetreats Day:
6:00am  Meditation & Beach Yoga warm-up
6:30am  Early breakfast
7:00am  Depart for surf lesson
9:30am  Late breakfast
10:30am Nap in a pool chair, enjoy a massage
11:30am  Yoga & Journal work
12:45pm Lunch
1:30pm Depart for Day Tour 1, Boat trip to snorkelling on uninhabited Island OR time to free surf using the resorts boats OR rent a scooter and explore the island, or take another nap!
6:00pm appetizers, drinks, watch the beautiful sunset
7:00pm Dinner
The schedule may change according to surf conditions, destination or other events that may be added to your surf and wellness package. Do you need to participate in everything? We are here to provide many options for you to choose from. If you opt to relax by the pool the entire day or choose to participate in only one activity per day, you will be supported in that decision. It's your surf and yoga retreat, and we are here to accommodate you in whatever choice brings you the highest bliss.
Leaders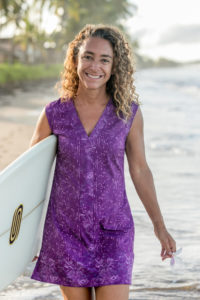 Laurel Marshall ~ Trip Leader
An insatiable curiosity for the unknown.  An addiction to wanderlust and adventure.  A never ending quest for bliss: finding balance, mindfulness and wellness.  A passion to inspire, empower and develop others around her.  A pursuit and love for warm tropical waters and waves.   Welcome to Laurel's inspiration and foundation for personal growth and development.  Somewhere along the way, high up in the Nepalese Himalayas, she fell hard and stumbled deep into others' cultures, collecting over 25 years of experiences, memories and friends while living, working and surfing her way around the world, from San Diego to South Africa; Sydney to…
Learn more about Laurel Marshall ~ Trip Leader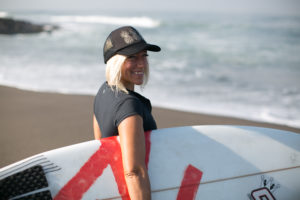 Lulu Agan ~ Chief Officer of Bliss
"Courage doesn't mean you don't get afraid.  Courage means you don't let fear stop you." – Bethany Hamilton Surfing, yoga, cooking and wellness: these 4 passions are what lead Lulu Agan, globe-trotting surfer and yogini, to SwellWomen which launched in 2003. Having spent more than a decade as a Private Chef and more recently getting certified as a Health & Wellness Coach with the Institute of Integrative Nutrition, Lulu cultivates a great knowledge and enthusiasm for top-quality cuisine that promotes glowing health, from the inside out.  As a supportive mentor and wellness authority, she works with clients to help them…
Learn more about Lulu Agan ~ Chief Officer of Bliss