Zen in Zambia Yoga Safari
With Lulu Agan ~ Chief Officer of Bliss
July 2 - 10, 2024
Embrace the Wild & Discover Your Bliss!
Since Lulu was a child, she has dreamt of embarking on an African safari, and now, with great joy, that dream has become a reality alongside Dazzle Africa!
Nestled within Zambia's awe-inspiring landscapes, this transformative journey seamlessly intertwines the untamed allure of the wild with the blissful embrace of yoga. Allow the exhilaration of game drives to ignite your yang energy, as you encounter majestic elephants, mighty lions, and graceful giraffes in their natural habitat. The Zambian wilderness becomes your inner sanctuary for yin exploration, where yoga sessions amidst pristine nature replenish your spirit.
8 NIGHTS IN 3 LOCATIONS
JULY 02-05 Flatdogs 5 STARS ON TRIPADVISOR
JULY 05-08 Mfuwe Lodge VOTED " MOST UNIQUE
LODGE IN THE WORLD" BY NATIONAL GEOGRAPHIC
JULY 08-10 Kapamba OR Zungulia  VOTED "TOP 5 SAFARI LODGES IN AFRICA" BY TRAVEL + LEISURE
Join us on this unforgettable safari, where the perfect harmony of adventure, inner peace, and bliss awaits.
HIGHLIGHTS:
Twice daily game drives
Nightly sundowners
Deep connection yoga sessions led by Lulu Agan
Optional behind-the-scenes experiences with conservation, education, and clean water
Reconnect with yourself in nature and find your peace
Photo credit: Mike Paredes
Leader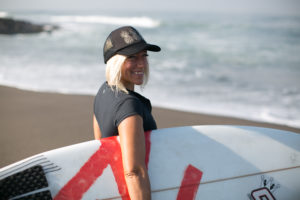 Lulu Agan ~ Chief Officer of Bliss
"Courage doesn't mean you don't get afraid.  Courage means you don't let fear stop you." – Bethany Hamilton Surfing, yoga, cooking and wellness: these 4 passions are what lead Lulu Agan, globe-trotting surfer and yogini, to SwellWomen which launched in 2003. Having spent more than a decade as a Private Chef and more recently getting certified as a Health & Wellness Coach with the Institute of Integrative Nutrition, Lulu cultivates a great knowledge and enthusiasm for top-quality cuisine that promotes glowing health, from the inside out.  As a supportive mentor and wellness authority, she works with clients to help them…
Learn more about Lulu Agan ~ Chief Officer of Bliss