SwellWomen France Surf, Yoga & Culinary Delight June '24
With Lulu Agan ~ Chief Officer of Bliss
June 15 - 22, 2024
Taking Flight to Europe!
You will be hosted in a traditional Basque château, overlooking the Pyrenees in a small village on the French Basque Coast, surrounded by fields, farms, and a plethora of fun surf beaches only 10 minutes away.
Our dreamy French country house dates back to 1870, finished with traditional tiles and stone interiors. There are 7 bedrooms, shared bathrooms, a kitchen, large lounge, and dining area all spread out between 2 floors. There's a heated indoor pool on the ground floor, a tennis court, and an outdoor area for lounging in the sun.
Beyond the fun surf & blissful yoga, your retreat experience features food at its heart with our private chef creating delectable farm-to-table meals. You can spend your free evenings tasting new wines and eating 'pintxos' (aka tapas) or dine at one of the Michelin Star restaurants in the area. In your downtime, take a dip in the pool or rent an electric bike to take in some sun at the beach or cycle through the charming coastal villages.
Are you ready to escape to Europe to be spoiled by delectable cuisine, perfect waves for any level surfer, and juicy restorative yoga?
Your Retreat in France Includes:
Seven nights in the beautifully restored 1870's château
Daily French-style Continental breakfast or brunch by Private Chef Lina
Opening night 3-course gourmet dinner at the villa by Private Chef Lina
3 x 2-course dinners at the villa by Private Chef Lina
1 x gourmet tasting menu at a 1* Michelin Star Restaurant
5 x  surf lessons with professional, patient, and knowledgeable local surf instructors.
5 x  yoga classes that focus on opening and strengthening the muscle groups used for surfing & restoring the body after a day of surfing
1 day off mid-week to explore the area or take advantage of an excursion
Swag Bag including a Carve Designs SPF rash guard.
Not Included
RT Flights to Biarritz, France
Transportation to the villa
Tips for the staff  ~ this is based on your personal experience
Excursions and massages are available and can be booked separately
A Very Swell Sample Day
How do we fit so much into one day? By taking care of all the details so that you can truly enjoy your luxury holiday. The surfing time depends upon tides and swell size, but here is an example of a SwellWomen Day:
9:00 am Breakfast
10:30 am Depart for surf session (surf based on tides)
1:30 pm Light lunch
4:00 pm Journaling & Yoga
7:00 pm Dinner or night on your own
The schedule will be created according to tides and surf conditions,  Do you need to participate in everything? We are here to provide options for you to choose from and we encourage you to do what feels best for you on any given day.  This is your surf and yoga retreat, and we are here to accommodate you in whatever choice brings you the maximum bliss.
Leader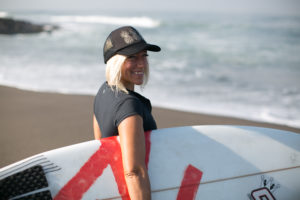 Lulu Agan ~ Chief Officer of Bliss
"Courage doesn't mean you don't get afraid.  Courage means you don't let fear stop you." – Bethany Hamilton Surfing, yoga, cooking and wellness: these 4 passions are what lead Lulu Agan, globe-trotting surfer and yogini, to SwellWomen which launched in 2003. Having spent more than a decade as a Private Chef and more recently getting certified as a Health & Wellness Coach with the Institute of Integrative Nutrition, Lulu cultivates a great knowledge and enthusiasm for top-quality cuisine that promotes glowing health, from the inside out.  As a supportive mentor and wellness authority, she works with clients to help them…
Learn more about Lulu Agan ~ Chief Officer of Bliss