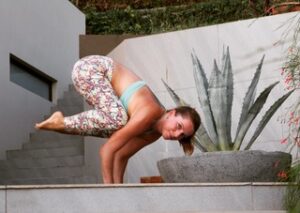 Self-confessed 'Landlocked mermaid', Katy has been a guest teacher with Swellwomen since 2014.
As a yoga practitioner for over 20 years, she draws her training and inspiration from various traditions, including Iyengar, Hatha, Therapeutics, and Yin yoga.  She specializes in a nervous system reset using a combination of yin/restorative postures, guided meditations, and gentle pranayama.
Her travels through Asia have provided wonderful opportunities to enhance her skill set with the study of Ayurvedic body treatments, herbalism, aromatherapy, and powerful breath and movement practices.
She is a Registered Nutritional Therapist and loves to bust the myths around what keeps us healthy!
Above all Katy believes in the power of nature and fun to bring us to a higher state of wellbeing and enable us to shift old patterns and open to new potentials.
Currently based in Nosara Costa Rica, Katy is excited to be back on the 'road' with retreat offerings in 2022. She is thrilled to be headed out on some fresh new breaks with the Swellwomen retreats and call in the waves!
Katy's mantra: "Your health is your wealth and your laughter is your legacy."