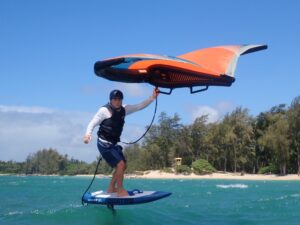 Steve Farwig grew up in the US and Canada.  From a young age until he was 19 years old, he skied during the winters competing at national level races.  In his late teens, summers were spent teaching windsurfing in the Columbia River Gorge.  His passion for skiing carried over to the 1988 Calgary Olympics when he coached for the Bolivian Olympic Ski Team. 
His love for windsurfing brought him to the island of Maui 28 years ago which lead to his current passion of wing foiling. As one of the pioneers of this sport, he decided it was time to take it a step further which lead him to teaching for HST and Alan Cadiz, one of the longest running water sport schools in the world. 
After honing his skills as a wing foil teacher, he with his beloved partner, Lulu, decided to launch Wing Foil & Yoga retreats to compliment SwellWomen's current offering of Surf & Yoga retreats. Steve loves to teach all levels of wing foiling. He especially loves seeing his students smile when they experience getting on foil for the first time. 
Events with Steve Farwig ~ Wing Foil Coach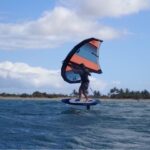 Wing Foil Retreat Maui (open to men & women)
June 2 - 8, 2024
Learn to Wing Foil on the beautiful island of Maui! First, there was windsurfing. Then there was kite surfing. Now there's wing foiling — a.k.a wing surfing or just "winging" — the latest, greatest, and fastest-growing sport to hit the water. You've dreamt of sandy beaches, tropical nights, cool ocean breezes, and warm weather.  Now you can join us in paradise to learn how to wing foil! Maui provides the perfect conditions and warm tropical waters to learn this amazing sport. Our Coaching Team is one of the best on the island and is committed to offering the highest standard of coaching…